Spring and the UDL is Easy!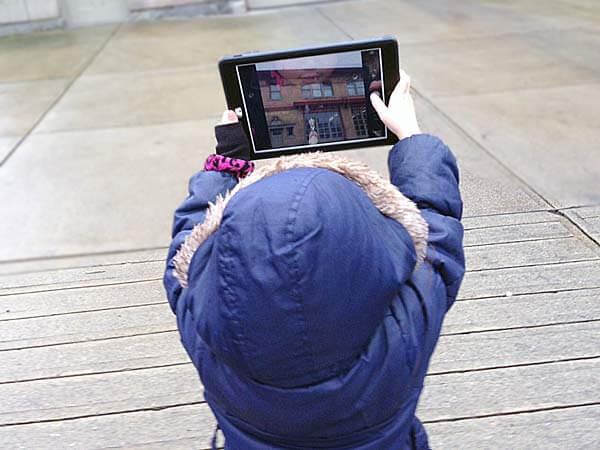 The students in Christine Lang's Grade 2 classroom at Lord Roberts Elementary probably have no idea what Universal Design for Learning is but they experience it every day! Their teacher offers them many different ways to engage, express and access learning through traditional means as well as through the use of classroom technologies. Christine had been using a SMART Board as part of her program for a while but this year she has been adding to her repertoire with Clicker 6 and Clicker Apps for the iPad. Students now have an opportunity to use technology in a more personalized way.
Every afternoon, the class goes for a neighbourhood walk. Getting out in the fresh air goes a long way in settling down this busy class but it also gives students real-life context for their discussions about community. The addition of iPads has been a great way to record what they see on the walk and this inspires writing and discussion after the fact. Recently, even the Vancouver drizzle couldn't discourage the class while they toured the community taking in the first signs of spring.
Once back in the classroom, Christine prompted the class to generate a list of words describing what they had observed on their walk. As students shared their ideas, she quickly created a word bank in Clicker Docs using the categories 'flowers, animals, street names, places, people, work and other'. As students returned to their desks, Christine Airdropped the word banks to the student iPads. Even though this was their first day using Clicker Docs, the 5 students with the iPads were quickly able to create rich journal entries, fix their errors and proofread their work with the built in supports of the program. Students who were not working on the iPads were able to record their ideas in their journal books with the help of the teacher and support staff.
What beautiful work they did! In future weeks, more small groups of students will get a chance to learn how to create their journal entries using Clicker Docs. The overall goal with the iPads and Clicker apps is to offer all students in the class one more option to share their learning. The Grade 2 students at Lord Roberts Elementary are proving that using iPads OUTSIDE in the community helps their writing INSIDE their classroom – and seeing this puts a real "spring" in our SET-BC step!