NatureMapping Bald Eagle Facts for Macintosh
Classroom Resource
Learning Level: Elementary School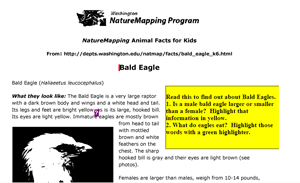 About this Resource
Kurzweil file for Macintosh with facts about bald eagles extracted from NatureMapping Animal Facts for Kids
From: http://depts.washington.edu/natmap/facts/bald_eagle_k6.html
This activity supports the Ministry of Education Learning Outcomes for English Language Arts (Reading and Viewing- Purposes ) Grade 4:
read fluently and demonstrate comprehension of grade-appropriate information texts, such as
– non-fiction books
– textbooks and other instructional materials
– materials that contain diagrams, charts, illustrations, or graphs
– reports and articles from newspapers and children's magazines
– reference material
– web sites designed for children
Life Science (Habitats and Communities for Grade 4:
– compare the structures and behaviours of local animals and plants in different habitats and communities
Created by Carol Graham.
Resource Files
Please Note: These files can only be downloaded on desktop. Visit the SET-BC website on a desktop computer to access them.