Eagle Story Activity Boards
Classroom Resource
Learning Level: Elementary School
Learning Level: Middle School
Learning Level: Primary School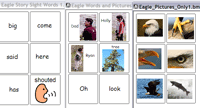 About this Resource
This activity is based on the 'Eagle Activity Boardmaker' and includes more vocabulary and story templates. There are ten boards in total. The vocabulary is on eagles but can be easily changed to any topic of interest.
This activity uses Word and Picture Cards and includes 3 story templates which can be printed. Students can add ( velcro) pictures and words to tell their story.
Included is a pdf file with ideas on how to use the pictures and sight words in a variety of activities. Change the words and pictures and tell different stories.
Created by Carol Graham in Mayer-Johnson Boardmaker software.
Resource Files
Please Note: These files can only be downloaded on desktop. Visit the SET-BC website on a desktop computer to access them.