Tom's Voice Drives the Plan  – A Journey on Seeking Assistive Technology Solutions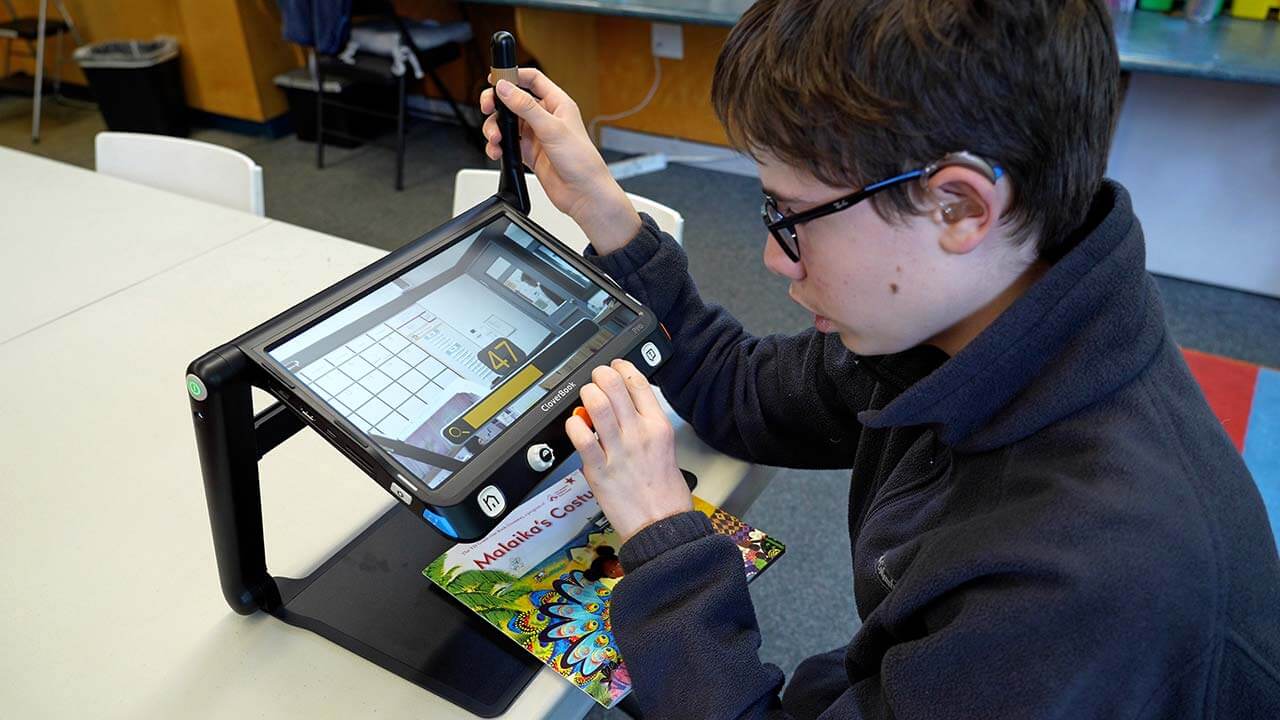 Meet Tom, an active and outgoing grade 7 student at Caulfeild Elementary in West Vancouver.  Tom is legally blind, has cerebral palsy and has some hearing loss.  Last school year, Tom worked with a dedicated school team including Emily, Linda and Moray – his resource teacher, his TSVI and OT, respectively.  
Tom has developed outstanding self-advocacy skills.  Tom initiated a request to work with an orientation and mobility specialist to learn how to use a long cane when walking because he wanted to be more independent.  Tom is also an avid adaptive downhill skier with his father as his guide.   
This year he explored many different possible solutions for digitally accessing and completing written work.  He trialed the Pix Pro camera and app with an iPad, the VisioBook, the Prodigi Connect and a couple of MagniLink products before settling on the CloverBook.  With each trial, Tom recorded on a T-chart what he saw as the advantages and disadvantages for his learning needs.  Tom was an equal partner at all discussions about his technology and he voiced when he was ready to move on to trialing a new piece of equipment.  
Tom knew what was at stake; he had a lot of ideas and opinions he wanted to express in written form and finding the right technology was key.  Each of the adults supporting Tom knew to lean in and listen when Tom shared his opinion.
Tom's voice carries beyond the classroom.  He was asked to speak at a West Vancouver School Board meeting about support for students with complex needs.  Emily, Linda and Moray were there, alongside his parents and siblings, Mika and Neil, to cheer him on.  Tom's advice for other students?  "The process of trialing technology can be long and sometimes frustrating, but the adults really need to hear what you think because you're the one using it."   
Thanks for being such a clear voice in the process, Tom!