Talk About Flowers of Canada
Classroom Resource
Learning Level: Elementary School
Learning Level: Middle School
Learning Level: Primary School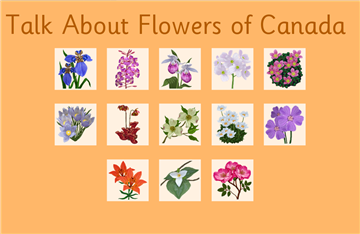 About this Resource
In this Talk About activity, created by SET-BC, students talk about the official flowers of the provinces and territories of Canada.
On the start page, click on each picture to open the recording page. Listen to the recordings on the start page.
Students can read about the flags using the sets "Flowers of Canada – Read a Book."
Keywords: Canada, Canadian Flowers, Symbols
This file can also be directly downloaded from www.LearningGrids.com.
Resource Files
Please Note: These files can only be downloaded on desktop. Visit the SET-BC website on a desktop computer to access them.