SETdirect Coding #2 Kit – Robot Mouse Communication Board
Classroom Resource
Learning Level: Elementary School
Learning Level: Middle School
Learning Level: Primary School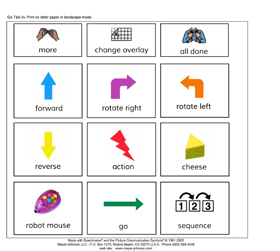 About this Resource
This communication board was created to support the Coding #2 SETdirect kit, which contains the Robot Mouse toy as well as the GoTalk 9+ communication device. This resource is meant as inspiration on how to involve a student with communication needs in a classroom activity and can be either used as is, or built upon further to serve your student better.
Simply print the PDF (portrait orientation, actual size) and cut it out to fit the GoTalk9+. The Boardmaker project file (BPF) can be opened and edited with Boardmaker Studio software as well as Boardmaker Online.
All Robot Mouse and related game direction images were created by SET-BC. The other communication symbols are from Boardmaker.
SETdirect is a SET-BC provincial initiative designed to provide BC school district teams with access to simple technology kits that support and encourage social inclusion for students with complex needs. For more information on the SETdirect kits, visit: https://www.setbc.org/setdirect/.
Resource Files
Please Note: These files can only be downloaded on desktop. Visit the SET-BC website on a desktop computer to access them.