Master Multitasker: Dominic Uses Diverse Tools with Distinction!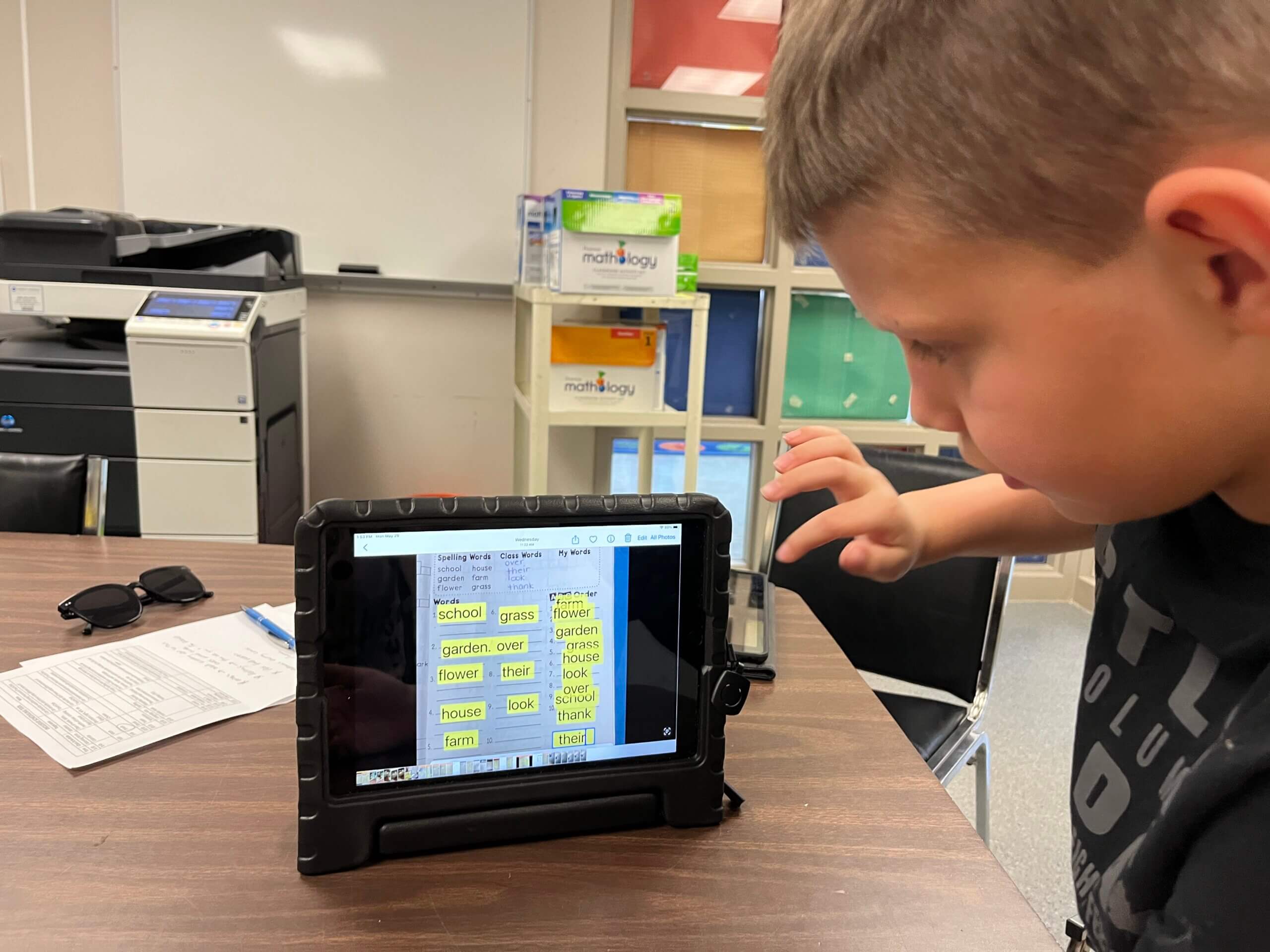 Dominic is a Grade 3 student who loves animals, baseball, Pokémon, and to laugh and have fun. This year, Dominic used an iPad from SET-BC to support his communication and literacy. He worked hard with his school team in Mission (SD 75) to find creative ways to learn with multiple apps.
Dominic used the SnapType app (as seen above) for Spelling, Journal Writing, Math, and Reading Comprehension lessons. SnapType Pro is an app that allows students to take a picture of an activity and easily add text and drawings to complete learning tasks on the iPad. This helps students who need alternatives for handwriting or drawing to complete assignments by accessing digital supports available on the iPad (such as predictive text, keyboard, and dictation). This was his favourite app to use, as he could use it in many ways. Dominic used an Apple Magic Bluetooth keyboard to input text for various activities done with SnapType.
The Notes app (freely available on all iOS devices) was very useful for Dominic as a simple word processor for practicing his spelling words and completing his spelling tests. As with Snap Type, the Notes app supported completion of writing tasks in conjunction with access to the on screen and Bluetooth keyboards, predictive text, and easy sharing with his classroom teacher and family at home.
Clicker Writer is an app that supports literacy development through scaffolded writing support. The app provides access to multiple activities online and allows users to customize activities. Dominic used Clicker Writer to do journals, daily check ins, and to share information about himself and his favourite things. He enjoyed writing a paragraph with Clicker Writer to tell the class all about himself and his life when it was his turn as Special Helper.
Dominic used TouchChat to talk about his feelings, to make choices, and to share his favourite things. This Augmentative and Alternative Communication (AAC) app supported him in communicating his wants and needs at times when others were having a difficult time understanding him. The school team used an Inclusive Schedule template to look at the daily classroom schedule and decide what times of day would be best to focus on modelling and using specific core and fringe vocabulary.
Dominic used Pictello to make a book about himself and to share his interests. He enjoyed that he could choose whether he records his own voice speaking, someone else's voice, or use the built-in voice on the app. He was very proud to tell stories about himself and things that were happening around him.
All activities completed on the iPad were also easy to share with his classroom teacher and family at home through the Seesaw app so that everyone could stay informed about his progress at school.
Dominic and his school team are enthusiastic about his progress and achievements this year using assistive technology. His educational assistant Rolanda observed his "success maintaining many learning outputs throughout the year. Dominic managed to accomplish completing his assignments, keeping up with the class and giving him the confidence to do his work without struggling to print." The team utilized release time to explore various apps and features with Dominic and use his iPad to its full potential. His Speech and Language Pathologist Gina noted that "the cost of the equipment is a barrier for what some of these students need, but in my opinion the far more valuable service was the support… with learning how to use the apps" including "troubleshooting, teaching, and modeling how to make using the iPad and apps fit as seamlessly into his school day as possible. The support and encouragement was the reason that he and his school team have been as successful as they were in using the equipment provided to help him be more successful at school this year."
Congratulations on your hard work and all you've accomplished this year, Dominic!