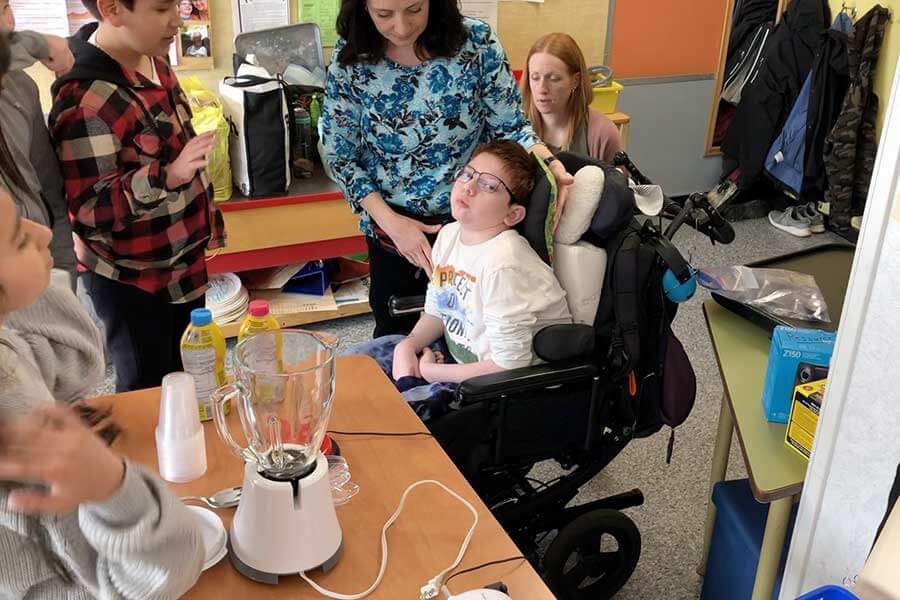 Meet Levi, who is currently in Grade 5 at Nechako Elementary in the community of Kitimat. Levi enjoys school and being with his peers. Levi is well loved by his peers, but due to his non-verbal communication, it has been challenging to provide opportunities for Levi to respond or meaningfully participate in daily classroom activities and routines. Levi's school team applied for SET-BC support in 2020 to look at ways to increase Levi's access to alternate ways to communicate.
Levi communicates using a total communication approach: using eye gaze, vocalizations, gestures, facial expressions, and body language. The school team collaborated and trialed a variety of different options. Levi now accesses multiple tools depending on the activity and goal for communication/interaction. His tools include an iPad Pro mounted on his wheelchair with apps such as Pictello, Tar Heel Reader, and a digital spinner, etc., as well as physical switches and speech generating buttons.
Levi's school team also sought ways to embed meaningful learning opportunities in the classroom for both peers and Levi. The teacher noticed that the class could benefit from more regular practice using money math. So, the teacher came up with the idea of "Levi's store," where Levi runs a bank. During math time, Levi calls up students to his store to purchase items: cookies, erasers, or other things made during small group activities with Levi. The students use their money math smarts to purchase items. Everyone gets math practice and Levi is motivated by the peer interaction to practice using his switch. This store has now been running for almost a year!