HeARTful Expression: A SET-BC and North Vancouver School District Collaboration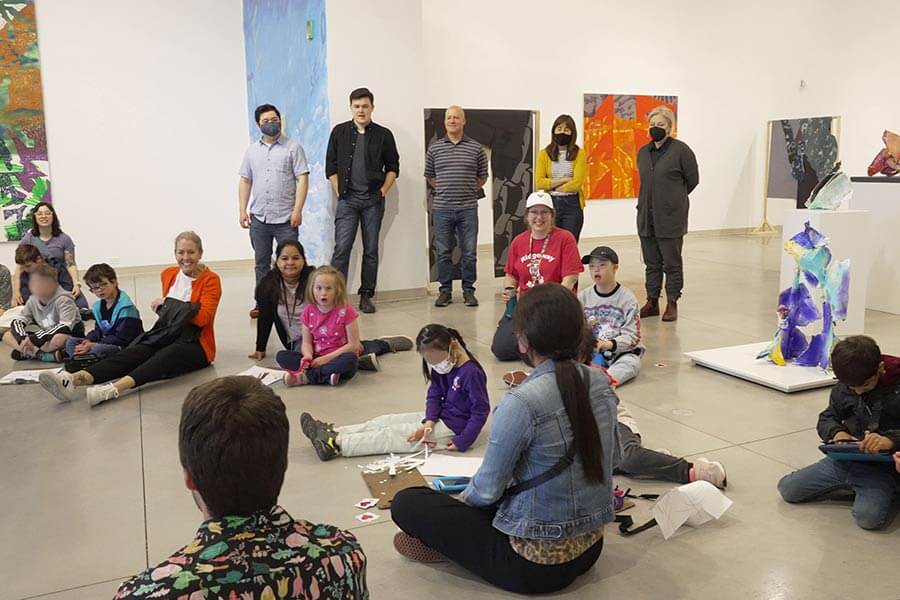 Last Spring, SET-BC joined North Vancouver School District for a SET-BC Inclusion Experience held at the Gordon Smith Gallery of Canadian Art during the "We Can Only Hint at this with Words" exhibition. Children of all different abilities attended, many held communication devices. They viewed various forms of art – large scale, multi-surfaced mixed media paintings by Russna Kaur, shaped cut-out paintings by M.E. Sparks, and mixed media sculptures and stop-motion video by Andrea Taylor.
The attendees were encouraged to openly react to the art they saw, to be themselves in the space, to make noise, and to think about how the art made them feel. Perhaps they might think of times when words alone could not convey what they were feeling and then, with those feelings in mind, explore how they could express them better through art. Given various materials, they then created their own sculptures and were welcomed to place them next to the ones on exhibit.
Daylen Luchsinger, Vice Principal of Arts Education in the North Vancouver School District, shares how this experience enhanced his idea of what "inclusion" in education is and could be, and how this day demonstrated how inclusion should aim to provide "individual modes for the individual to speak with their heart, their vision." Meanwhile artist, Andrea Taylor, who also attended, notes witnessing the breaking down of barriers for those children who often may not be included in such an exhibit. "Art is for everyone." she reminds us, "And everyone means everyone."
If you and your district would like to collaborate with us on a similar SET-BC Outreach Project in future, please contact info@setbc.org for more information.