Friendship Adjectives Word Bank
Classroom Resource
Learning Level: Elementary School
Learning Level: Primary School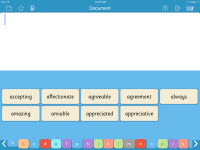 About this Resource
This Clicker Docs file is a wordbank designed to provide writing support to students in descriptive writing on the topic of "friendship". The wordbank is comprised of adjectives that might describe the student's friend. Target Audience is Grades 1-5. Content Reference from the new curriculum: Core Competencies (facets): Creative thinking – Generating ideas, Personal and Social – Relationships and cultural contexts, Personal values and choices, Personal strengths and abilities. Curricular Competencies: Comprehend and connect – Recognize how different text structures reflect different purposes, Create and communicate – Create stories and other age-appropriate texts to deepen awareness of self, family, and community, Communicate in print, using letters and words and basic conventions of English spelling, grammar, and punctuation (facet) = Building Relationships.
Created by Julie Ormiston.
(Please note that direct download of Clicker app files from the Internet to iPads is not currently possible. To open these files in Clicker apps on an iPad, one must use Mail, AirDrop or Crick-approved cloud file hosting services such as DropBox, Google Drive, or OneDrive. For instructions on how to enable file sharing through these services please see Crick's tutorial here.)
Resource Files
Please Note: These files can only be downloaded on desktop. Visit the SET-BC website on a desktop computer to access them.