Eagle Activity
Classroom Resource
Learning Level: Elementary School
Learning Level: Middle School
Learning Level: Primary School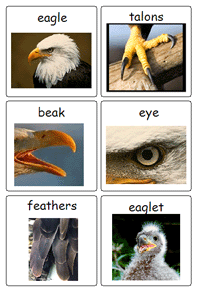 About this Resource
This activity uses Word and Picture Cards.
There are three versions of each set of pictures of an eagle:
With Symbols (pictures) only
With Words Only
With Symbols (pictures) and Words
Included is a pdf file with ideas on how to use the pictures for Word Recognition Lotto as well as other activities such as Go Fish Game.
Created by Carol Graham.