Feudal System
Classroom Resource
Learning Level: Middle School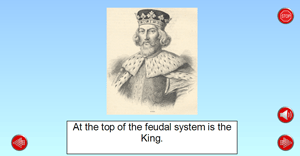 About this Resource
This Clicker Grid Set is a unit of activities designed to support Early Learners who are learning about the European feudal system in the high to middle ages.
The student can read, write, label and paint. Clicker Paint is required to complete the paint activity.
These activities support the BC Ministry of Education Prescribed Learning Outcomes for grade 8 socials. Created by Lisa Chambers sd # 23.